You have probably heard of chia seeds, but we want to encourage you to give powdered chia seeds a try.
Powdered chia seeds are the best superfood in the world.
Healthiest Form
Powdered chia seeds are more bioavailable and easier to digest -- it is easier to absorb all of the nutrients from them because the fibrous outer shell of the whole chia seed is already broken down.
Quickest Way to Consume Chia
Powdered chia seeds are easier to incorporate into beverages and recipes.
Whole chia seeds need to soak for at least 10 minutes to become as bioavailable -- when you're busy with kids or work or life, this can add up.
Easy to Use
Powdered chia seeds can be mixed with other superfood ingredients easier.
We pair our powdered chia seeds with other superfood ingredients to improve flavor and functionality (but we NEVER have more than 5 ingredients in each blend).
Try it yourself!
Shop Anti-Inflammatory Blend now.
SHOP NOW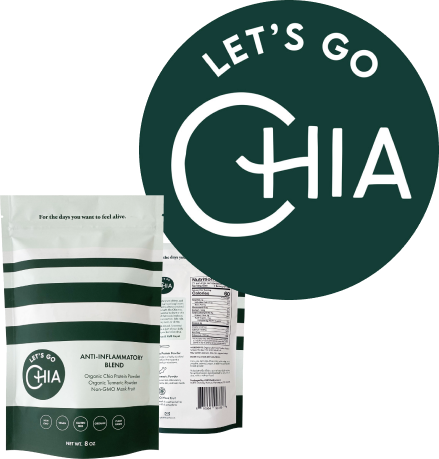 Nutritional Benefits

of Powdered Chia Seeds
Protein
Plant Based Protein that Contains all 9 essential amino acids.
Antioxidants
More Antioxidants per serving than blueberries.
Gut Health
Loaded with fiber for gut health.
...and also
Anti-Inflammatory Blend
Peanut Butter Protein Powder